Swim Team: Tiffin TIDAL WAVES
Start: June 7th
Time: 5-6:30pm
Team Registration Fee: $60
All swimmers must have an active membership with the Tiffin YMCA to be a member of the TCY Swim Team. Parent/Guardian Meeting: June 5th 6:30pm
*Mark your calendar 2021-2022 Swim Season start date September 7th! Parent/Guardian meeting will be held on August 31st at 6:00pm.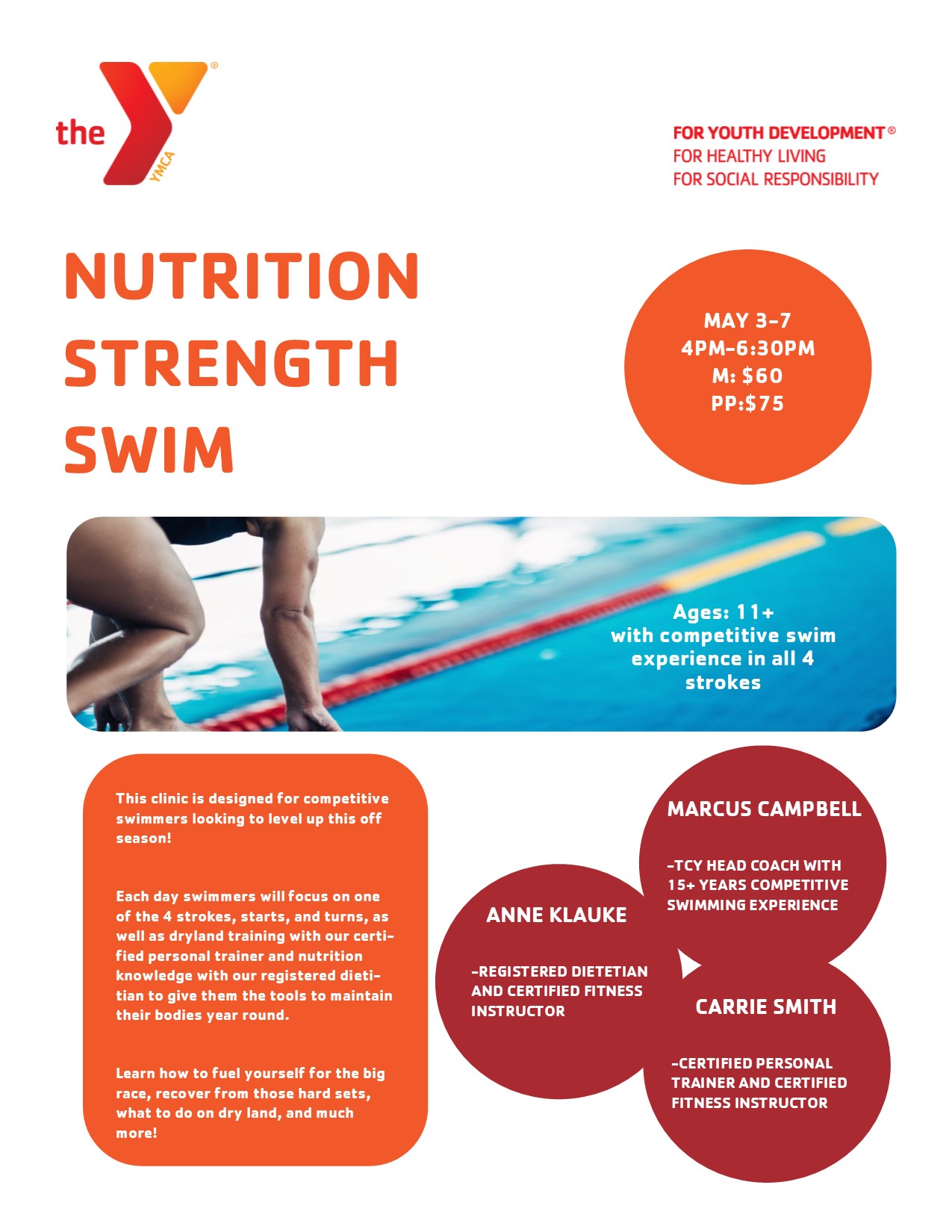 Nutrition, Strength and Swim: Level up your competitive swim training this summer by participating in this unique clinic. Swim technique training, strength training with our personal trainer and nutrition plans designed by our nutritionist. You do not want to miss this opportunity!
For more information please email Coach Marcus - CoachMarcus@tiffinymca.org or call (419) 447-8711

*Swim Team Information Packet is available at the Membership Desk at the YMCA
Private Swim Lessons
Swimming is an important life skill, and private swimming lessons at the Y is a wonderful way to empower yourself or your child! Private and semi-private lessons are great options for swimmers looking to catch up or get ahead in their swimming skills.
Private Lessons:
(1 student with ONE instructor)
*All lessons are 30 minutes.
Single Lesson= $20(M)/$30(PP)
Card of 2 Lessons=$40(M)/$60(PP)
Card of 4 Lessons=$68(M)/$100(PP)
Card of 8 Lessons=$125(M)/$190(PP)
Semi-Private Lessons:
(2 students at the same level with ONE instructor)
*All lessons are 30 minutes and priced per student.
Single Lesson= $15(M)/$15(PP)
Card of 2 Lessons=$30(M)/$30(PP)
Card of 4 Lessons=$40(M)/$55(PP)
Card of 8 Lessons=$70(M)/$100(PP)
Private and Semi-Private Swim Lesson Brochure